Zhangjiajie Tours from Portugal
We offer a wide range of Zhangjiajie escorted tours from major cities of Portugal to Zhangjiajie China to suit your varied tastes and preferences. Accommodations in reputable hotels, inclusive of airport transfers and meals are available depending on your choice of package.
---
---
Tour Code: ZTG-L-01
This package tour is a perfect balance of the local culture and fascinating landscape in Guangzhou and Zhangjiajie.
---
Tour Code: ZTG-L-02
Visit a lot of World's Heritage Sites and explore the legendary Avatar Hallelujah Mountain.
---
Tour Code: ZTG-L-03
Take delight in exploring the various famous sites while visiting Hong Kong & Guangzhou, and be lost in the beauty of Zhangjiajjie National Park.
---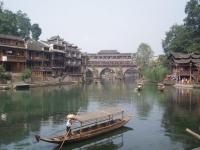 Tour Code: ZTG-L-04
On this tour, you will explore the hustle and bustle of Shanghai, visit the great mountains of Zhangjiajie that have been drawing eye balls of tourists from every corner of the world for their beautiful karst scenery, discover the unique stilted houses in the lovely Fenghuang Old Town.
---
Tour Code: ZTG-L-05
Cruise along with the picturesque Yangtze river and its tributary from Chongqing to Yichang by VICTORIA CRUISES. Encounter magnificent mountain vistas while exploring Zhangjiajie, home to the Tujia ethnic group along with experiencing the world famous Sky Walkway and the Plank Road along the cliff ...
---
Tour Code: ZTG-L-06
Unveiling the highlights of China's most internationally-known parks, this exciting tour allows you to experience the contrasts between Zhangjiajie National Forest Park and the Jiuzhaigou Valley National Park.
---
---
When to go
Depending on your vacation time, personal interests and weather preferences, Zhangjiajie can be visited at any time of the year, especially from April to October.. Also, autumn season from October to December is also another recommended time with fewer rainy days and typhoon. Zhangjiajie is also called a "city of spring" due to its comfortable year-round temperatures that hover around 16 ℃.
♦ Visit Zhangjiajie in Spring (March - May)
Spring in Zhangjiajie is a season in rainy period. During the spring time, everything is starting to become green and fresh, comfortable temperature with average of 22 ℃. Not too cold and too hot. Spring is good for you if you do not want to meet the crowds.
♦ Visit Zhangjiajie in Summer (June - August)
Summer in Zhangjiajie is pleasure but also have some high temperature days with 39 ℃ during the mid-summer. Because Zhangjiajie is a mountainous area, fog and heavy rain in July create a few snags for hikers and mountain climbers. During the summer holiday, this area will become crowded so try to avoid the China domestic travel peak time.
►Some tourists prefer to see the scenery after rain. The scene in Zhangjiajie can offer you an impressive image to you.
►Recommended sites after rain to go: Tianmen Mountain, West Sea and other parts of Wulingyuan.
►When climbing up to the mountain, the temperature will be about about 3-5 ℃ lower than the mountain foot areas. It is better to take some thick clothes there.
♦ Visit Zhangjiajie in Autumn (September - Mid November)
Autumn in Zhangjiajie is a golden time for travelers. With fewer misty days and rainy days, the weather will be fine and last for a long time. Be careful of the cold night in autumn season.
♦ Visit Zhangjiajie in Winter (Mid November - February)
Winter in Zhangjiajie is a world of snow as well. The ice engraving for your appreciation in this time, Be careful of the frozen air and heavily cold days, It is a comparative dangerous thing when climbing mountain in a winter day.
Major public holidays can make travel difficult, and sights can be crammed with vacating Chinese. Maneuvering around China with 1.3 billion others at Spring Festival can be daunting, but you also get to see Zhangjiajie at its most colorful and entertaining. Hotel rates become very expensive during the May Day holiday (May 1-3), National Day (October 1-7) and Spring Festival (lasts 7 days in Jan. or Feb.), and train tickets can be difficult to procure.
---
Flights to Zhangjiajie
Based on feedback from our Portuguese guests and our own travel experiences, we've found the following websites are very helpful for investigating and ticketing airfare to and from each of our trips.
• www.cheapflights.ca/
• www.tianxun.cn/
• www.tripbase.com/
• www.Expedia.com
• www.Orbitz.com
• www.travelocity.com
---
Packing Tips
Before Packing
·Make a packing list and number them in order of importance.
·Reread you list. Think twice about the "desired or essential" items.
·Try to make the list as short as possible.
·Find related information about your destination and amend your list accordingly.
What to Pack
Travel light! Whenever you travel, remember that quality, not quantity is the order of the day. Hereafter are some useful tips for packing. Please read it carefully as it will surely help you.
Materials:
·Do remember to take you passport, visas, related health certificates, tickets, ID, money, credit card, map, itinerary and other important documents needed during traveling
·Do remember to make a card upon which are your personal details in case of emergency
·Do remember to make copies for your important materials. It is strongly recommended that you additionally store a backup of your information in your email account or other on-line storage.
·Do remember to bring guide and phrase books related your destination.
·Do not pack important items unprotected; put them into a waterproof bag to prevent damage.
·Do not carry too much money all in one place, spread it around your pockets.
·Do not keep your credit card and identification card together.
·Do not take too many reading materials, 1-3 copies is ok.
Clothes:
·Do check the climate of your destination, and then see what kind of clothes you require.
·Do remember to take leisurewear which will keep you relaxed and comfortable.
·Do remember to take clothes that dry easily.
·Do remember to take a waterproof and umbrella.
·Do not take too many formal clothes, one or two is enough.
·Do not bring natural fibred clothing as it is hard to dry and are heavier than synthetics.
·Do not forget to bring sunhat, sunglasses and sun block in summer
·Do not forget to take you toiletries and your personal items such as toothbrush, towel and so on.
·Do not take sturdy clothes
·Do not wear military-styled clothing in case of unnecessary misunderstandings.
Clothing Suggestion:
| | | | |
| --- | --- | --- | --- |
| Season | Month | Temperature℉ | Suggesting Clothing |
| Spring | Mar-May | 50 - 71.6 | Western suits, jackets, sports coats, woolen jackets, long sleeve shirts and travel shoes |
| Summer | Jun-Aug | Above71.6 | T-shirts, short sleeve shirts, skirts, sandals, caps, rain wear |
| Autumn | Sep-Nov | 50- 71.6 | Western suits, jackets, sports coats, light woolen sweaters, rain wear and travel shoes |
| Winter | Dec-Feb | Below 50 | Overcoat, thick woolen sweaters, lined coats; In northern China, cap, gloves and cotton-padded shoes are required |
Electronic products:
·Do remember to take a power convert and adapter plugs. China's electrical system operates at 220 volts
·Do remember to take razor, alarm clock, camera and enough film as well as extra batteries
·Do not take too many electrical products which can be bought anywhere or are provided by hotels, hair dryers for example. It will be a burden for you.
First-aid Kit
·Do remember prescribed medications!
·Do remember to prepare some drugs for emergency use, including Aspirin, vitamins, anti-inflammatory, anti-histamines, remedy for diarrhea and antacid.
·Do take along your medical history (Blood Group, Allergies, and Known Medical Conditions) and keep in your first-aid kit. This may be helpful if you need to see a doctor or become incapacitated.
·Do not carry excessive quantities of drugs; you may encounter problems at China Customs.
·Do not bring a pharmacy, just bring the essentials.
Packing tips
·Roll your clothes instead of folding them or use vacuum bags. In this way you will save a lot of space and provide extra protection for your clothing.
·Put the items your will use regularly at the top.
·Bring several plastic bags with you. You will find many uses for them during your trip.
·Remember the rules on carrying liquids; you may have to remove them at your point of departure.
---
Chinese Visa
Portuguese passport holders will need a visa to travel to and enter China (apart from Hong Kong and Macau for stays up to 90 days). There is no Visa-On-Arrival provision except in extraordinary cases. You should apply to the closest Chinese Visa Application Service Center to your home. Your passport must be valid for six months from your proposed date of entry and contain two blank visa pages when you hand in the visa application. Acquiring the standard one-month tourist visa is not difficult.
Places to apply for a visa:
♦Embassy of the People's Republic of China in the Portuguese Republic
Address: Rue Do Pau De Bandeira, 11-13 (A Lapa), 1200-756, Lisboa, Portugal
Fax: +351-21-3928431, 3975632
Email: chinaemb_pt@mfa.gov.cn
Consular Section
Address: Secção Consular da Embaixada da República Popular da China, Rua de São Caetano, Nº 2, Lapa, 1249-024 Lisboa
Enquiry Tel in Chinese: +351-21-3967748
+351-96-3355431 (consular protection)
Enquiry Hours: 09:00 - 12:00, 15:00 - 18:00, Monday - Friday (except holidays)
Fax: +351-21-3901240
Office Hours: 09:00 - 12:00, 15:00 - 18:00 on Monday and Thursday
Notice of Change of Payment
From July 1, 2007, the consular section will not accept cash for payment. After you get the Pick-Up Form at the consular section, please go to any branch of Millennium Bank to pay for the required fees and take the Deposit Receipt. At the specified time, please collect your visa by showing the Deposit Receipt and Pick-Up Form to consular officials.
Bank: Millennium
Account of Chinese Embassy: NIB 0033 0000 0000 6813 2247 9
da Embaixada da R. P. Da China
The nearest Bank Millennium is about 300 meters from Chinese embassy. Its information is following:
Address: Avenida Infante Santo 76D
Tel: +351-21-3929680
Fax: +351-21-0099145
Office Hours: 10:00-16:00 every day
---
Important Things
When NOT to travel in China
Weather aside, avoid traveling during any of the China's national holidays if at all possible. In the 1990's the Chinese government introduced the "Golden Weeks" to develop domestic tourism industry. The three Chinese national "Golden Weeks" to avoid are:
1.Chinese New Year (Spring Festival): This is the worst time to travel. The exact dates each year varies since it's based on the Lunar Calendar, but it's usually around late January to mid-Feb.Technically about 2 weeks but many Chinese will just get the first week off. Chinese New Year is the most important of the traditional holidays, kind of the equivalent of Christmas in the West. A huge chunk of the population — from white collar to migrant worker — takes off work to travel back to their hometowns to spend time with their families. Most businesses shut down completely, so your options for eating and shopping also become severely limited in smaller towns. Of course, if you don't mind the crowds, it can be lots of fun (festivals, street activity, etc).
2. National Day (starts Oct 1): A week-long holiday that celebrates founding of the People's Republic of China. In particular, avoid some hot sites, such as the Great Wall, the Forbidden City, the Yellow Mountain, Jiuzhaigou Valley, etc.
3. Labor Day (May 1): Until 2007, this was a week-long holiday but has since been scaled back to a long 3-day weekend. So not as crazy as before but still definitely want to avoid being in transit during this time.
Business Hours
Most of China's business world slows down considerably during the spring festival in late January and early February. Business visitors would be wise to avoid this two to three week holiday period.
In most cities in China, businesses and government offices are usually open Monday through Friday and every other Saturday from 8 am to noon and from 1:00 to 2:00 pm to 5:00 or 6:00 pm. China has a five and a half day workweek consisting of 44 hours. Banks are open Monday to Saturday from 8:00 am to 5:00 pm. Shops are open every day.
Money Matters
The renminbi (RMB, sign: ¥; code: CNY; also CN¥, 元 and CN元) is the official currency of China (People's Republic of China). Renminbi is legal tender in mainland China, but not in Hong Kong, Taiwan, or Macau. It is issued by the People's Bank of China, the monetary authority of China. It literally means "people's currency".
The primary unit of renminbi is the yuan (元). One yuan is subdivided into 10 jiao (角), which in turn is subdivided into 10 fen (分). Renminbi banknotes are available in denominations from 1 jiao to 100 yuan (¥0.1–100) and coins have denominations from 1 fen to 1 yuan (¥0.01–1). Thus, some denominations exist in coins and banknotes. Coins under ¥0.1 are used infrequently.
For RMB (CNY) and GBP exchange rate, please visit The Currency Converter.
Credit Cards
Currently there are seven main foreign credit cards available in China, including Visa, MasterCard, American Express, Diners Club, JCB, Federal and Million. Credit cards can be used for withdrawing money, shopping and other transactions in most major cities of the country, but generally not accepted in rural areas.
ATM
In China, most of the local ATMs machines accept Visa and Master. CITIBANK card and HSBC are also very popular in China because Citibank and HSBC have agreement with UnionPay. For other cards, you may check the ATMs you are going to use and see if they have the logos and signs for your credit cards.
Electricity
Basically there are two main standards for voltage and frequency in the world. One is the standard of 120 volts at a frequency of 60 Hz, and the other is the standard of 220–240 volts at 50 Hz. China uses generally 220V, 50HZ, AC (Hong Kong is 200V; Taiwan is 110V).
Electricity in United Kingdom is 230 Volts, alternating at 50 cycles per second. If you travel to China, you will need a voltage converter and a plug adapter.
Communications
1.Internet: Most hotel rooms will offer an internet connection for your laptop. Airports, Starbucks, and a number of coffee restaurants provide free Wi-Fi. If you don't have a laptop, inexpensive internet bars are scattered around the city.
2. Post Offices: Airmail letters to United Kingdom usually take between four days and a week to reach their destinations. Stamps are sold at the post office counters.
3. Telephone
♦ Call a fixed phone
If you are going to call a fixed phone in a particular city in China, please dial the exit number of your home country 0011 + 86 (China's country code) + 10 (i.e. Beijing's city code) + phone number.
♦ Call a cell phone
If you are going to call a mobile phone in a particular city in China, please dial the exit number of your home country 0011 + 86 (China's country code) + Cell phone number.
Conversion
Although a traditional measurement system exists, China now uses the metric system.
1 kilometers = 0.62 mile
1 meter = 1.09 yards
1 centimeter = 0.39 inch
1 kilogram = 2.2 pounds
1 gram = 0.035 ounce
1 liter = 0.76 pint
0℃ = 32 ℉
Meeting Etiquette
·Greetings are formal and the oldest person is always greeted first.
·Handshakes are the most common form of greeting with foreigners.
·Many Chinese will look towards the ground when greeting someone.
·Address the person by an honorific title and their surname. If they want to move to a first-name basis, they will advise you which name to use.
·The Chinese have a terrific sense of humour. They can laugh at themselves most readily if they have a comfortable relationship with the other person. Be ready to laugh at yourself given the proper circumstances.
Dining Etiquette
·The Chinese prefer to entertain in public places rather than in their homes, especially when entertaining foreigners.
·If you are invited to their house, consider it a great honour. If you must turn down such an honour, it is considered polite to explain the conflict in your schedule so that your actions are not taken as a slight.
·Arrive on time.
·Remove your shoes before entering the house.
·Bring a small gift to the hostess.
·Eat well to demonstrate that you are enjoying the food!
Table Manners
·Learn to use chopsticks.
·Wait to be told where to sit. The guest of honour will be given a seat facing the door.
·The host begins eating first.
·You should try everything that is offered to you.
·Never eat the last piece from the serving tray.
·Be observant to other peoples' needs.
·Chopsticks should be returned to the chopstick rest after every few bites and when you drink or stop to speak.
·The host offers the first toast.
·Do not put bones in your bowl. Place them on the table or in a special bowl for that purpose.
·Hold the rice bowl close to your mouth while eating.
·Do not be offended if a Chinese person makes slurping or belching sounds; it merely indicates that they are enjoying their food.
·There are no strict rules about finishing all the food in your bowl.
Tipping in China
Tipping is not widely expected or required in Mainland China. However, at superior hotels and restaurants catering to western tourists, porters, room service and wait staff may have become used to receiving small tips. You can tip in cash, some small gifts brought from your country would also be appreciated, such as music CDs, books, perfumes, candies, etc. While in Hong Kong and Macau, tipping is very common and important, just like many parts of the world.
What To Do in an Emergency in China
Hopefully, you won't have to deal with an emergency while you're in China. However, if you do find yourself in a bad situation, it is important to know what to do.
In China the organization that is responsible for public safety is the Public Security Bureau (PSB). There are usually several PSB locations within a city district. If you feel you are in danger or need to call for help, you can reach the PSB by dialing 110 on any phone in China.
If you lose your passport, you should report the lost passport as soon as possible to your nearest Public Security Bureau and to your embassy or consulate in China. In order to get a new Chinese visa, a Police report about the loss/theft will be required.
Below are some emergency phone numbers that you should make note of:
110 for the police
119 in case of fire or
120 for an ambulance
If you lose your credit cards or travelers checks, call the issuers immediately. There is usually an international number on the backside of your credit card that you can dial collect 24 hours a day from anywhere outside your home country.
♦ The PSB Office in Zhangjiajie
Tel: 0744-8225175
No. 32, Nanzhuang Lu, Yongding District, Zhangjiajie
♦ The PSB Office in Beijing
Tel: 010-84020101
Add: No.02, Andingmen Dong Dajie, Beijing
Subway: next to the subway station of Yonghegong (Lama Temple)
♦ The PSB Office in Shanghai
Tel: 021-62310110
Add: No. 128, South Wuning Lu (Wu Ning Nan Lu)
♦ The PSB Office in Guangzhou
Tel: 020-83116688
Add: No.200, Qiyi Lu, Guangzhou
Consular Assistance
In China, the Portuguese tourists can obtain consular assistance from the:
♦ Embassy of the Republic of Portugal in Beijing
Address: No. 8, San Li Tun Dong Wu Jie, Chaoyang District, Beijing 100600
Tel: (+86)10 6532 3497 (Interpret)
Fax: (+86)10 6532 4637
E-mail: embport@public2.bta.net.cn
Sections of Portuguese Embassy
Secretary to Ambassador Tel:(+86)10 6532 3242, 6532 3220
Consular Office Tel: (+86)10 6532 4798
Fax: +86)10 6532 0284
Cultural Office Tel:(+86)10 6532 4795, 6532 0406
E-mail: ccpp-rpc@www.ccpp-rpc.org
Commercial Office Tel:(+86)10 6532 0401
Fax: (+86)10 6532 6746
E-mail: aicep.pequim@portugalglobal.pt
♦ Consulate General of the Republic of Portugal in Shanghai
Address: 16/F, C-D, Jing Cai Century Building, 567 Weihai Road, Shanghai
Tel: (+86)21 6288 6767
Fax: (+86)21 6103 7070
Open Hours: 09:30 to 12:30 and 14:30 to 16:30